The Gompa Center
Gompa a Tibetan word that translates as, "Place of quiet study" was opened after the close of the Wholistic Fitness Center by Dr. John Painter in October of 1994, to serve as a base of operations for the instruction and production of classes and products dealing with the Li family internal martial art and healing systems.
The Gompa houses Paper Lantern Publishing for audio, video and print publishing, the American Rangers headquarters for police and military defensive tactics training and IAM Company. The executive offices on the second floor contain a managing team for handling Dr. Painter's international seminars, workshops and instructional programs in Daoqiquan Chinese and Tibetan health and wellness systems. Downstairs can be found the Gompa Kwoon, a private training hall for internal art classes and workshops. Our classes are kept small and intimate to facilitate better learning conditions and are open to serious students only.
The Gompa Workshop Program
Traditional Training with Modern Equipment. The Gompa offers on-going weekly classes in Baguazhang, Taijiquan, Xingyiquan, Qigong, Daoyin, Meditation and Daoism. Weekends are reserved for 3 – 6 or 12 hour workshops open to students and the general public in the internal Chinese and Tibetan healing and martial practices.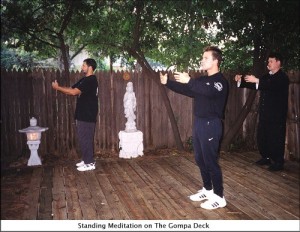 Study Jiulong Baguazhang™
In Jiulong Baguazhang™ there are eight Palms, each studied as an individual system. All students begin with the Jiulong Basics Curriculum – Rolling the Pearl™. This structured program teaches the fundamental physical, mental, and spiritual skills necessary to practice Jiulong Baguazhang™; the student will also learn a number of basic self-defense skills.
Once the student comprehends the principles and skills presented in Rolling the Pearl™, he or she can begin learning the other Eight Palms. All eight palms utilize the core principles presented in the Jiulong Basics curriculum.
Discover the way to really learn a COMPLETE system.
Today in many workshops or seminars students are loaded down with more information that they can absorb. There are many "instructors" who mostly demonstrate and dazzle all with their depth of knowledge. They often put on a great demonstration. When all is said and done there are a very few individuals who come away with any real useful knowledge to add to their daily practice.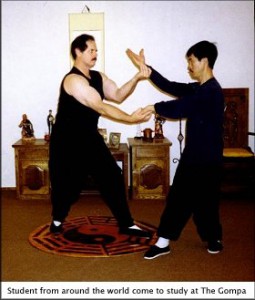 As the old saying goes "He who is given a fish eats for a day. He who is taught how to fish eats for a lifetime." Dr. Painter believes that, "it is better to teach you to fish." He will show you how to use the principles and secrets of each art to teach yourself. This was the way of the old teachers in China and Tibet. Dr. Painter's approach to teaching is clear, concise and unique. He takes time to explain his methods, how and why they work and does not waste time with myth, legends or pseudo-scientific methodology. Preferring to teach scientifically validated principles Dr. Painter instructs students in such a way that they can experience the results of the training right away, not months or years later.
Jiulong Baguazhang™ seminars at The Gompa Weekend Workshops can be a learning experience similar to the way the teachers of old instructed their students. In the early days a student would journey many miles to spend a few days, weeks or months with his Shifu. The Shifu would give the student a series of exercises and principles to work on after which the student would return home and practice. After the student spent some time with the exercises and felt he has sufficiently understood the instructors teaching he would return and demonstrate his knowledge to the Shifu.
If all was well understood the teacher would then bestow the next level of knowledge on the pupil. This method guaranteed that the student learned in a progressive way and that each lesson was fully absorbed before the next lesson was presented. This is the idea behind The Gompa Weekend Workshop Baguazhang programs. Knowledge of an internal martial or healing art, like a seed sprouting into a young plant and finally maturing into a fully developed well-rooted tree takes time. After all, that is what "Gong Fu" (Kung Fu) really means isn't it, "Skill, knowledge gained with time and patience."
This is why Dr. Painter created the concept of the Gompa Weekend Workshops and the International Study Groups. You might call The Gompa one of the first "Bed & Breakfast Internal Arts Schools". Our Weekend Workshops and study groups on Jiulong Baguazhang™ offer the serious student a way to learn this rare art in the age-old tradition of the founding masters. The Gompa Workshop is designed to be a total learning experience based in ancient principles using the most modern state of the art training equipment.
These programs are not composed of learning empty showy forms or memorized routines so often seen in tournaments performed by contemporary Wushu practitioners. Jiulong Baguazhang™ is a practical down to earth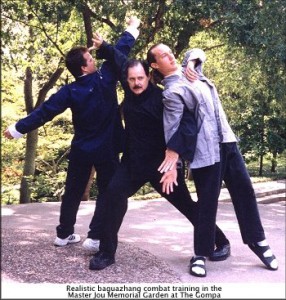 art designed by the Li family as a functional health and martial art. Jiulong is a method designed by bodyguards for other bodyguards who's very lives depended on their system to keep them healthy and safe. It had to develop high levels of health, fitness, Qi energy, flexibility, strength and martial prowess. There were no trophies to be won. It was a matter of survival. Today in our polluted, stressed out world filled with muggers and rapist and so many other dangers to mind and body an art like Jiulong Baguazhang™ is truly an ancient method for modern times reborn.
How to Study with Dr. Painter
Dr. Painter's Arlington Texas programs include weekly classes, private training and intensive Weekend Workshops and seminars at the Gompa. If you live out of state you may want to attend his international study groups meeting each week at various locations around the world. Each study group is led by an SGL (Study Group Leader) certified to instruct the Jiulong Baguazhang™ system in beginner to intermediate levels. You can also book Dr. Painter to come instruct in your own school or training hall.
These are programs that are fun, educational, informative and enjoyable. All seminars are complete. There is nothing withheld in the teaching nor is there such an overwhelming volume of information that the student cannot absorb it. All students receive the entire method as listed in the seminar descriptions and can begin practicing immediately.
Choices for Workshop Study:
1. Gompa Center Training
You can study at the state of the art The Gompa Training Center.
a. Weekend Workshops
These range from 6 to 12 hours long in Jiulong Baguazhang™ – Taijiquan or Xingyiquan. Weekend Workshops are programs designed to be held over a one, two or three day weekend from Friday evening to Saturday morning through Sunday afternoon. Workshops are divided into two and three hour units with plenty of time for questions and corrections to be made.
b. Seven Day Weekly Intensive
(Private Students Only by special arrangement)
Immerse yourself in a total work study program. You can spend three to four hours a day training with Dr. Painter and use the rest of the day to practice in The Gompa training hall. Later attend evening The Gompa Taijiquan or Baguazhang evening classes free or read about your selected course of study from the over 2,000 books and video tapes in The Gompa library.
2. On Site Programs
This is a seminar or private instruction given in your home or school. Most programs are held over a three-day weekend from Friday evening through Sunday afternoon. Seminars will vary from nine to eighteen hours in length. These will be broken up into two and three hour units with plenty of time for questions and corrections to be made. Certificates of attendance will be presented to those who attend at the conclusion of the programs.
3. International Study Groups
The Jiulong Association has established on going schools or study groups in many states and countries. To find certified study group leaders, (SGL'S) in your area click here. All study group leaders are long time students of the Li family Jiulong Baguazhang™ system. Dr. Painter presents workshops at these locations averaging twice a year.
4. Tournament Workshops
(Send for detailed brochure on each subject)
One or two hour programs introducing the following subjects for tournament promoters.
a. Taijiquan and Why It Makes You Healthy
b. Street Combat Concepts of Taijiquan
c. Flying Dragon Bagua Qigong for Health
d. Chinese Weapons Sparring and Tournament Rules Judging Workshops
e. Xingyiquan Double Edge Sword Form (Xingyi Jian)
f. Baguazhang Qinna (locks and escapes)
5. Books and Video Study
Much of the Jiulong Baguazhang™ system is now available on videotape and through Workshop study manuals. More tapes and books are currently in production. While we do not feel you can truly learn an entire art from a book or video we have spared no expense to make sure that each video is truly a "teaching tool" and not just a demonstration of the art. We think that these are excellent ways to develop a "taste" of the real thing and can serve as a starting point for beginners or reminders for workshop students.
The Gompa Guarantee
Dr. Painter and the staff of The Gompa will guarantee you or your group the highest quality information, instruction and services available during your workshop or seminar. The Gompa a division of IAM Co. has been in continuous operation since 1977.
For more information and prices on Gompa workshops and other study programs with Dr. John Painter please :
WRITE – The Gompa / Dr. John P. Painter
PO BOX 13858
Arlington Texas 76094
CALL – Dr. Painter Tel : 817-860-0129. FAX : The Gompa 817-460-5125
EMAIL – Contact Us here
For more information please visit The Gompa Web Site!
http://www.thegompa.com